Saledock featured in the Boutique Magazine
---
Technology Stars article in the Boutique Magazine: The business sense magazine for fashion retailers
NOVEMBER 05 2020
|
5 MIN READ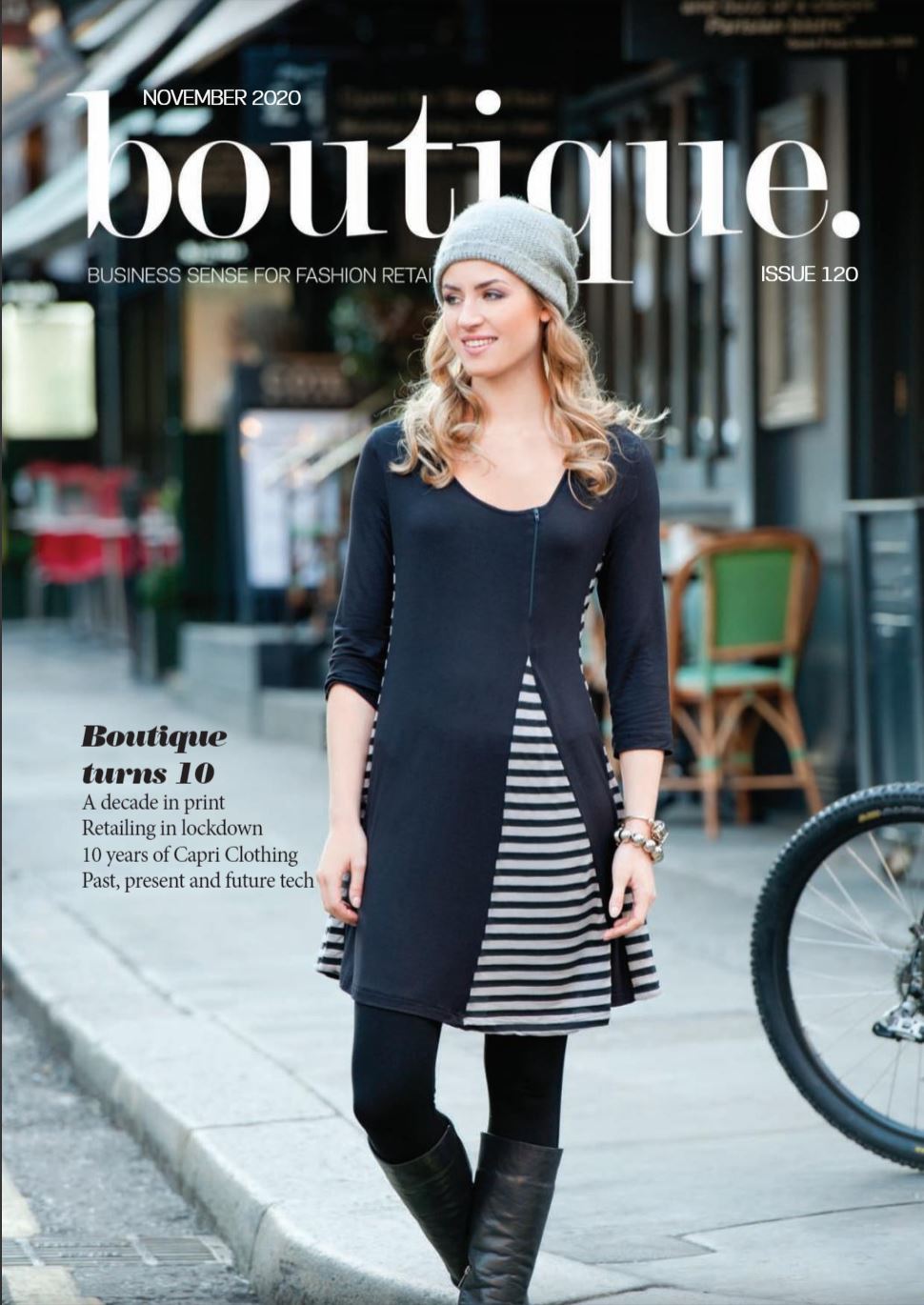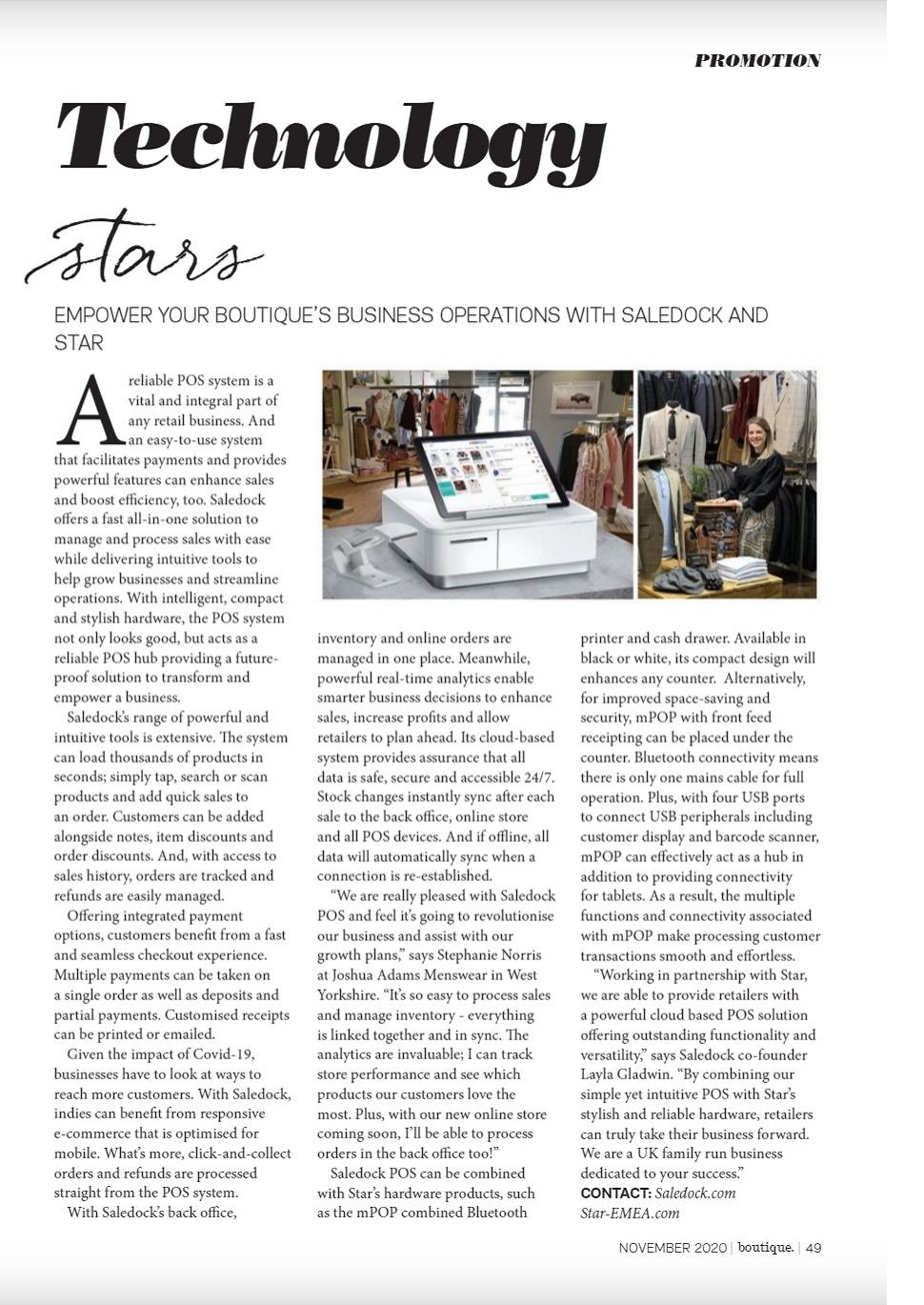 A reliable POS system is an integral and vital part of any retail business. An easy to use system that facilitates payments and provides powerful features can enhance sales and boost efficiency. Saledock offers a fast all-in-one solution to manage and process sales with ease while delivering intuitive tools to help grow businesses and streamline operations. With intelligent, compact and stylish hardware the POS system not only looks good but acts as a reliable POS hub and provides a future-proof solution to transform and empower a business.
Saledock's range of powerful and intuitive tools is extensive. With no lagging or delays the system can load thousands of products in seconds; simply tap, search or scan products and add quick sales to an order. Customers can easily be added alongside notes, item discounts and order discounts. And, with access to complete sales history, customer orders are tracked and refunds/exchanges managed.
Offering integrated payment options, customers benefit from a fast and seamless checkout experience. Multiple payments on a single order as well as deposits and partial payments on layby orders can be taken. Customised receipts are printed or emailed.
Given the impact of Covid-19, businesses have to look at ways to reach more customers. With Saledock, retailers can benefit from fast and responsive ecommerce that is optimised for mobile. Click and collect orders and refunds are processed straight from the POS system.
With Saledock's back office all in-store and online products, inventory and online orders are managed in one easy to use place while powerful real-time analytics enable smarter business decisions to enhance sales, increase profits and allow retailers to plan ahead for busy periods.
Its cloud based system provides assurance that all data is safe, secure and accessible 24/7. Product and stock changes instantly sync after each sale to the back office, online store and all POS devices, whether a terminal, tablet or mobile. And if offline, all data will automatically sync when a connection is re-established.
"We are really pleased with Saledock POS, we feel it's going to revolutionise our business and assist with our growth plans. It's so easy to process sales and manage inventory, everything is linked together and in sync. The analytics are invaluable, I can track store performance and see which products our customers love the most, it's brilliant! Plus, with our new online store coming soon I'll be able to process orders in the back office too! The Saledock team are helpful and always on hand to support us." - Stephanie Norris, Joshua Adams Menswear
The mPOP™ from Star, a combined Bluetooth printer and cash drawer solution, is just 10cm high and 30cm wide and available in black or white. Its compact and lightweight design with a sleek polished finish enhances any counter top. Alternatively, for improved space-saving and security, mPOP with front feed receipting can easily be placed under the counter.
Bluetooth connectivity results in only one mains cable for full operation and, with 4 USB ports to connect USB peripherals including customer display and barcode scanner, mPOP can effectively act as a hub to control a variety of peripherals in addition to providing connectivity for tablets. As a result, the multiple functions and connectivity associated with mPOP make processing customer transactions smooth and effortless.
"Working in partnership with Star we are able to provide retailers with a powerful cloud based POS solution offering outstanding functionality and versatility. By combining our simple yet intuitive Point of Sale system with Star's stylish and reliable hardware, retailers can truly take their business forward and reap the benefits. We are a UK family run business dedicated to your success." Layla Gladwin, Co-founder, Saledock
Book a demo
---
Let's chat! Book a demo today and we'll discuss how Saledock can help you.
Book a demo
Start your free trial
---
Start your free trial today and explore all the tools Saledock can offer you!
Start free trial