How to Successfully Motivate your Sales Team in the New Year
---
We share some of our best tips to keep reluctant retail workers motivated in the new year.
January blues? Depending on how you feel in the new year, January is either a low-spirit, low-energy month after the weeks of Christmas frivolity, or for some it's the fresh and exciting start they've been waiting for!
Commonly in retail, January can be a challenging time with many employees struggling to return to work with the motivation needed.
If you've returned to work to find that your team is trudging back with a lack of gusto, don't worry! In this article, we share some of our best tips to keep reluctant retail workers motivated in the new year.
What is motivation?
Firstly it's important to understand how motivation works and how people are driven towards taking action and achieving goals. Knowing the science of motivation will help you to apply our tips to achieve the best results.
According to Hanan Parvez, founder of PsychMechanics, people are naturally motivated towards pleasure and away from pain. As 'reward-seeking organisms', even unconsciously, we look for rewards in everything we do. He states that because of this, there are two ways in which people can be motivated:
Positive Motivation - in the form of rewards. This could be an immediate reward or one that is gained in the future but the expectation of that reward is the motivating factor. Visualisation of a reward can be a very effective way to motivate yourself and keep you driven towards achieving a goal. Short term rewards are usually quite easy to achieve but rewards that lie ahead in the long-term can be less motivating due to our evolutionary nature of preferring instant gratification.
Negative Motivation - in the form of pain avoidance. This is commonly seen in students who are working hard in an effort not to fail. Negative motivation is avoiding pain or punishment but this will only be effective if a person has a low tolerance to pain. The person who can bear a lot of pain will not be motivated into action until the threshold is met which could be a long time!
People tend to have a preference for positive or negative motivation so it's important to understand how individual people are driven to succeed. Spend time getting to know what drives your employees and whether they like to be rewarded or prefer pain avoidance.
Provide The Right Tools
There's nothing more frustrating as an employee than being asked to complete tasks with substandard tools. Mundane admin tasks such as stock counts, updating data or checking records will be as likely to motivate your team into action as brushing crocodile teeth. If as an employer, you're setting tasks that demotivate your employees, you're never going to get them onboard during a cold, wet January.
By equipping your team with the latest in ePOS tools, you can make light work of the most tedious tasks of the new year - like inventory management! With Saledock's easy ePOS, you can automate all of the manual processes that make the biggest retail headaches, saving your employees time completing demotivating tasks.
Set An Example
The core values of a retail business are nothing if the leadership within the company doesn't demonstrate them.
For instance, if leadership values:
'Integrity' but everyone knows they don't always tell the truth.
'Hard work' but they are rarely seen getting stuck in.
'Positivity' but regularly brings down the team with their negative attitude.
'Teamwork' but overlooks someone's behaviour because they are a high performer.
"What you permit, you promote. What you allow, you encourage. What you condone, you own. What you tolerate, you deserve." - Michelle Malkin
Sending the wrong messages to your team undermines the values of your retail business and will ensure a lack of motivation among employees.
For retail workers who are still in 'holiday mode', verbal motivation will only be so effective. Setting the example for the desired behaviour before will go a lot further towards motivating your team.
So go forward into January, spending time on the front line. Engage with customers, make sales and show your team what a motivated employee looks like.
Share Your Goals
Be clear with your employees about your goals. At the start of each day or shift, make sure that you've shared the outline of how you want to succeed. Retail workers will be far more motivated by knowing what they're working to achieve.
It's worth noting that the metrics for success may have changed from the Christmas season and your team may not be aware of this. From the sales-driven culture of Christmas, January is the time to build on customer service and experience and your team will directly impact the success of this goal. So be clear!
Keeping these goals visible will go a long way towards helping your team succeed. Using dashboards that give retailers an at-a-glance view of their goals will utilise positive motivation and keep the team united in their approach.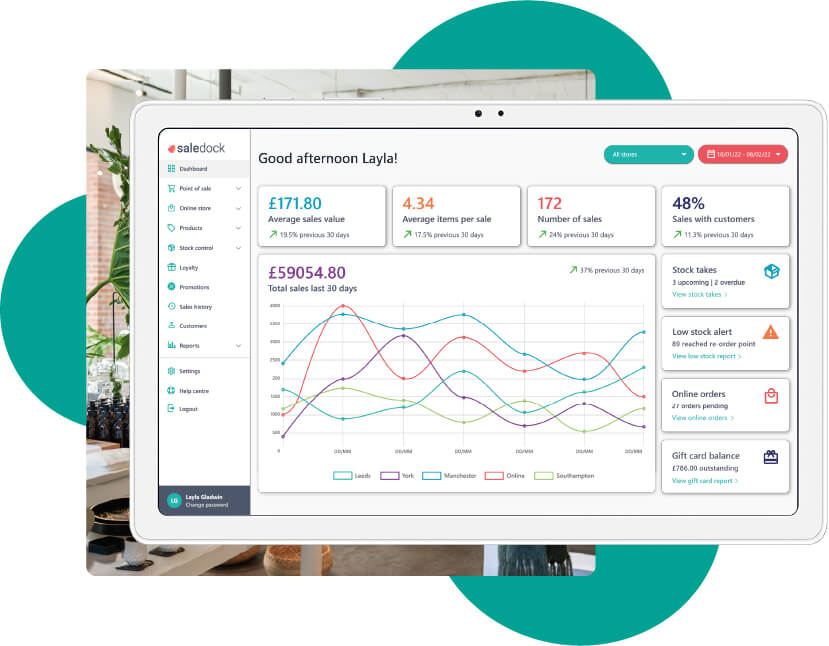 Saledock's dashboard keeps retailers and employees up-to-date with valuable analytics to meet your goals.
Top Tip - Keep to short-term goals and reward members of your team who achieve them. In addition to this, positive praise and thanks will encourage employees to value your goals in the future.
Treat Your Team with Empathy
Similarly with setting an example, showing empathy is a vital strategy in motivating employees. Showing a genuine concern for the welfare and safety of your team and creating a culture of empathy in your business is positively related to job performance. Empathetic leaders are assets to retail businesses because they can build and maintain relationships, therefore retaining talented employees.
Top Tips for increasing empathy in your retail business:
Identify early signs of burnout in your team
Be sincere in your interest in the hopes and dreams of others
Demonstrate a willingness to help out employees
Be compassionate about personal losses
By ensuring your retail business is an empathetic workplace, you can eliminate mentalities that destroy teams such as 'us against them' between employees and managers. Demonstrating that you're all on the same team - and meaning it - is a key component to motivation. After all, employers that don't care will have employees that don't care.
Celebrate With Your Team
When your team succeeds, so do you! So celebrate their successes and show them that you're grateful for their efforts in a meaningful way. Coming back round to positive motivation, how you reward your employees will come down to understanding what motivates them in the first place. Find out what drives them and be sure to deliver when they succeed.
Provide Creature Comforts
Being motivated to leave the house on a miserable January morning can be challenging enough for some. In a post-holiday slump, encouraging your team to power through can be made easier by providing your team with some extra comforts.
If you know that a challenging time is approaching, employees will appreciate some additional comforts such as breakfast, flexible breaks and snacks. Above all, it's a small gesture that demonstrates how much you value them and that you acknowledge their extra efforts in tough times.
Conclusion
Don't be surprised to find a lack of motivation among your team in January. It's likely they've worked extremely hard over the Christmas period and will find it difficult to transition back to 'work mode' in the new year. Understanding what motivates your team is the first step to success. Remember - what works for one may not work for everyone so be sure to treat them as individuals for the best results.
Motivate your team with the right tools. Saledock's software has everything you need to empower your employees and eliminate tedious admin tasks. Get them focused on your goals by having everything under one roof and simplify all of your existing systems.
Lead by example and show your employees the standard you hold them to is also the standard by which you live. Create a culture of empathy and emotional intelligence. Being sincere with your team will create trust and a positive environment that retains the best performers. Demonstrate your appreciation by celebrating when your team members do well. Motivate others and show them that employees are valued and working towards goals is rewarded in your retail business.
Here at Saledock, we know what it takes to create a positive and motivated workplace. Our unified system has all the tools you need to empower your employees and share your goals for your business.
Sign up for our 14-day FREE trial or why not book a demo? You'll get unlimited access to all Pro Plan features for a full two weeks with no credit card required. See for yourself why Saledock has been named Point of Sale Technology of the year at the 2022 Retail Systems Awards! Get in touch to find out Saledock can help you and your team succeed in 2023.
Book a demo
---
Let's chat! Book a demo today and we'll discuss how Saledock can help you.
Book a demo
Start your free trial
---
Start your free trial today and explore all the tools Saledock can offer you!
Start free trial