It's a hat trick! Saledock makes Retail Systems Award shortlist once again
---
For the second year Saledock has made the shortlist for the prestigious Retail Systems awards.
APRIL 04 2023
|
2 min read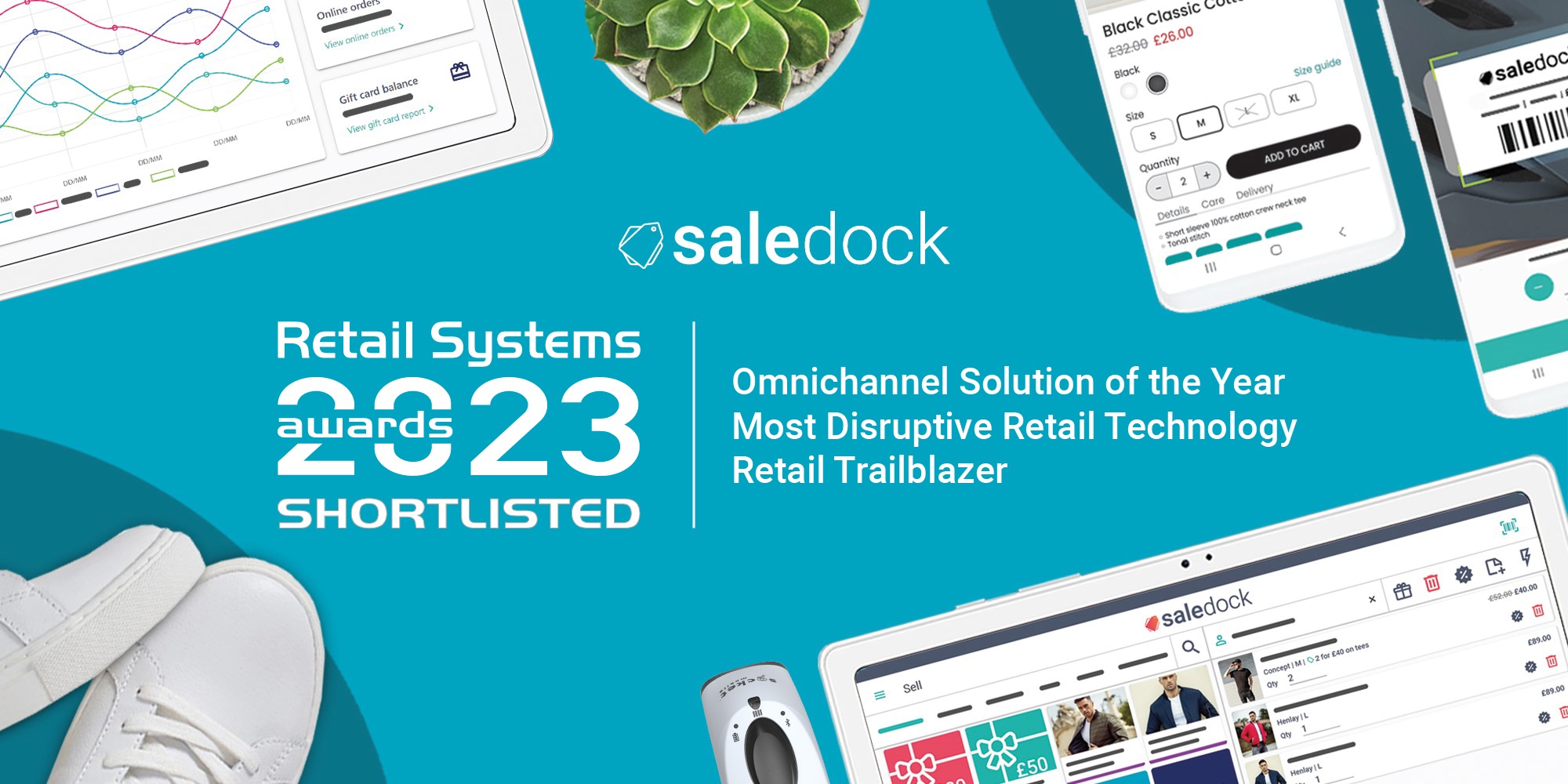 The Retail Systems Awards celebrates excellence and innovation in the retail sector, and with strong competition "Saledock are delighted to have made it a hat trick at the Retail Systems Awards for a second year in a row!" says Layla. Adding, "Built with UK retailers, for retailers. Saledock's one-stop ePOS, eCommerce and inventory management solution makes selling and retail management a breeze!"
One of the biggest problems faced by retailers today are disconnected systems which often leads to lack of stock visibility, overstocking, wastage, and simply costs the retailer time and money. With different systems used to manage in-store and online sales and stock management, there's no wonder retailers are frustrated when an item they just sold online is no longer available because it was sold in store only moments ago.
Saledock helps retailers boost productivity and work smarter. Saledock automates the mundane, eliminates data duplication and helps retailers understand their business better. With retailers no longer left in the dark over their best and worst performers, they can confidently buy stock ahead of time and schedule extra staff for predicted busy periods.
"Saledock`s unified ePOS and eCommerce platform enables retailers to manage the core areas of their business using one platform! With one connected system, Saledock makes business life easier and helps retailers reach their customers wherever they choose to shop; in-store, online and on social." adds Lee. Saledock's one-stop-shop approach is one of the reasons they have been shortlisted for so many awards.
The awards, now in its 18th year, promises to be an evening to remember! Saledock has been shortlisted for 3 awards:
Omnichannel Solution of the Year
Most Disruptive Retail Technology
Retail Trailblazer
The 2023 Retail Systems Awardss ceremony will take place at the 5 star Waldorf Hilton in London on June 29th.
Book a demo
---
Let's chat! Book a demo today and we'll discuss how Saledock can help you.
Book a demo
Start your free trial
---
Start your free trial today and explore all the tools Saledock can offer you!
Start free trial