Customer management software to grow repeat business
---
Increase customer spend and discover shopping habits with customer management software for retail.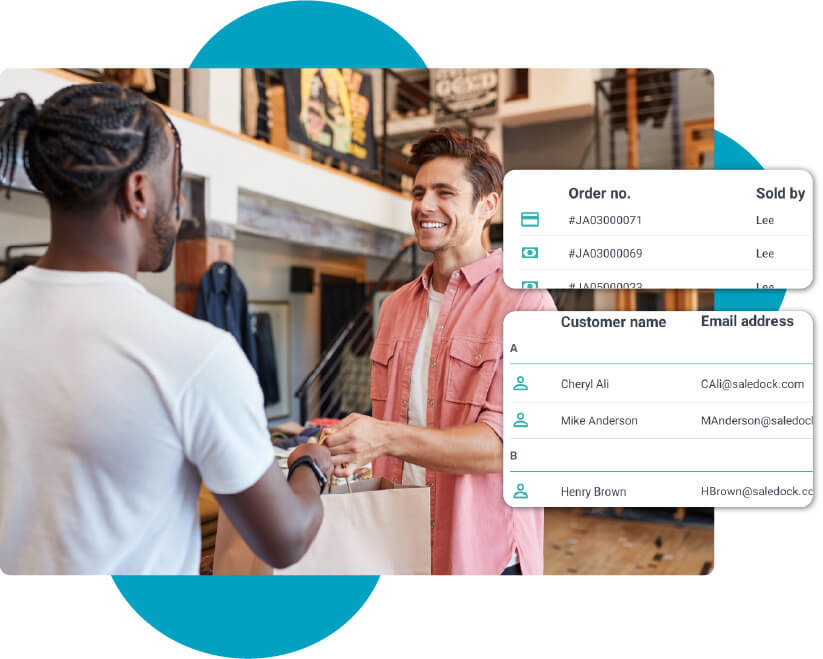 Build your customer database
Add new or existing customers to each sale straight from your POS. View their details, sales history, issue store credit, loyalty points and more!
Saledock's customer management software helps you discover in-store and online customer profiles and purchase habits. Reward repeat custom by offering personalised discounts, tiered price lists per customer group, promo codes and loyalty points.
Bulk import
Already have a large customer database? Easily bulk import and export using CSV.
Email marketing
2 way customer sync with Hubspot for your targeted marketing campaigns.
Gift cards
Attract new customers and increase revenue with omni-channel gift cards.
Customer loyalty
---
Get to know your customers and build a custom loyalty programme that offers visit and point based rewards.
Discover more
Start your free trial
---
Start your 14 day free trial today and explore all the tools and benefits that Saledock can offer you!
start free trial
FAQ's
---
addremoveWhat is customer management software?

Customer management software is one central database where you can view, edit and add customer information, and track customer purchases online and across all stores within your business.

addremoveWhat is CRM software?

Customer Relationship Management (CRM) is software that helps you track information and engagement between you and a customer across all locations within your business. The term customer management software is also used.

addremoveWhat is a CRM system used for?

A Customer Relationship Management (CRM) system is used collect information about each customer. This is one central database where you can access customer information such as their name, contact information, address and sales history. Particularly useful if you need to contact a customer or you are starting an email marketing campaign.

addremoveWhy does your business need CRM software?

To eliminate spreadsheets and paper-based forms. By accessing all your customer data from one central database you can build a better picture of repeat customers, customer spend, their sales history and preferences. For retailers, CRM software also means you can issue personalised discounts, store credit and loyalty points as each is issued to an individual customer stored on your CRM software.

addremoveHow does customer management software work with my POS system and website?

You can lookup existing customer information and add a customer to an order on your ePOS when they pay at the till. If the customer does not exist, you can create a new customer which is added to your customer database and available the next time they shop with you. As an omni-channel provider, Saledock enables you to view both in-store and online purchases per customer. Each time a customer places an order online their customer profile is updated with their latest information, total spend, loyalty points and purchase history.

addremoveHow does the Hubspot integration work?

Saledock offers both a 1 way or 2 way sync of customer information. Any customer data added to Saledock will be sync to your Hubspot account. This includes contact information and marketing preferences. We recommend connecting your Hubspot account if you wish to use your Saledock customer database as part of an email marketing campaign.