How much does a POS system cost?
---
Key areas to consider when researching the cost of a POS system; software, hardware and payments.
MARCH 20 2021
|
7 MIN READ
Shopping around for a new point of sale system but unsure where to start? Perhaps you're looking to upgrade from a cash register to a modern POS system or wanting to switch from your existing POS provider. We've put together a list of key considerations to bear in mind when choosing a new POS solution, everything from budgeting for POS software, hardware, payment providers to POS and ecommerce features to consider that will help you improve business efficiency.
What is a POS system and how does it work?
A POS system enables you to process sales and take payments but it's not just an intelligent cash register, it's also a complete business management tool that allows you to understand your business better and enable business grow. Here's some features and benefits Saledock offers:
How much does an ePOS system cost?
Many POS businesses offer different price plans so there's usually a plan to suit every budget. Price plans advertised are commonly per store and register. We've listed our Saledock plans and a breakdown of prices to help give you a better understanding. 1 register licence is included per price plan, a register licence is per till/cash register/POS device. Additional licences cost only £29 each so if you have 2 tills you pay the price plan plus £29 for the additional register. Subscriptions can be paid monthly or annually. You'll receive around 2 months free if you pay annually.
Essential Plan
Ideal for start-ups and established businesses that do not require advanced analytics designed to help you gain valuable insights and grow your business. This plan is £59 per month billed monthly. The essential plan is not available for multi-store retailers.
Pro Plan
Ideal for multi-store retailers and SMB's requiring a more feature rich POS system. The pro plan gives you access to additional features such as advanced analytics, loyalty scheme, integrations and tiered pricing. There's no limit on the number of products and users you can add. This plan is £79 per month billed monthly. This price is per store plus £29 per additional register. For example 2 stores with 3 tills per store would cost £274 per month billed monthly. £79 x 2 (2 stores) + £29 x 4 (additional 4 registers) = £274.
Unified plan
The advanced plan includes all the pro plan features plus ecommerce. Saledock offers bespoke ecommerce sites from £1495. We offer ecommerce sites at a lower upfront price as you then pay the monthly price plan, this helps businesses spread the cost of ecommerce. This plan is £129 per month billed monthly. Additional stores and registers apply at the pro plan rate. This unified POS and ecommerce solution allows you to manage all inventory, sales, customers and analytics using one system. As part of the ecommerce module you'll also be able to process online orders, send branded order confirmation emails, set shipping rates, print shipping labels and manage all content and imagery on your ecommerce site.
Pricing varies considerably depending how each business offers their ecommerce package. Some will charge thousands upfront with little or no monthly plan fee, whilst others charge nothing upfront then hundreds in monthly fees but you'll need to sign a lengthy contract agreement.
There are many hardware options that are compatible with POS software. Most businesses offering POS systems will have a hardware compatibility section on their website where you can purchase hardware directly, usually at a great price as they have an agreement in place with their hardware provider. Unsure about how much you should spend on POS hardware? Think about how you like to process a sale, do you prefer a fixed terminal or prefer to sell on the shop floor? Are you a cashless business or require a barcode scanner?
We've listed the hardware you may require and put together a range of bundles including prices to help you get a better idea of what hardware you really need. Prices may vary and exclude VAT.
Mobile ePOS
Saledock is available on the Android platform and is compatible with most modern Android tablet or phones. We recommend these tablets for their quality, reliability and reasonable price point:
Samsung Galaxy Tab A8 10.5" (2021)
Samsung Galaxy Tab A7 10.4" (2020)
Samsung Galaxy Tab A 10.1" (2019)
Samsung Galaxy Tab S6 Lite 10.4"
Samsung Galaxy Tab S7 11"
If your tablet is not enclosed in a tablet stand we recommend purchasing a protective case. Sunmi also offer handheld devices which are robust, scratch-resistant and splash-proof:
Sunmi M2 max – Robust 10.1" tablet
Sunmi M2 – Robust handheld device (phone size)
Sunmi L2s – Robust handheld device with built in scanner (phone size)
POS receipt printers, barcode scanners and cash drawers
Most cash drawers have a RJ11 interface, insert this directly into a receipt printer that is connected to your tablet or POS terminal and the drawer will open when a cash payment is taken on your POS. There are a variety of receipt printers, each with different models. USB and/or ethernet models are cheaper than the Bluetooth models but this enables you to be wire free and more mobile. If mobility and a cable free setup are important to you then you may prefer the Bluetooth option. The same applies to barcode scanners, wired scanners are cheaper but wireless/Bluetooth provide you with more mobility.
Scanning products at checkout will considerably increase checkout speed as you scan the barcode and the product is added straight to your order. Your POS system should allow you to associate existing product barcodes with a product in your inventory or allow you to generate your own and print a product label that includes your logo, product information and barcode. Not only is a barcode scanner useful at the checkout you may wish to use it when performing a stock take. Imagine your tablet in one hand and barcode in the other scanning products on the shelves. Perhaps you'd prefer a fixed terminal to process sales plus a separate mobile device such as the L2s to perform a stock take or sell on the shop floor. No need for a scanner for your mobile device as you can use the built in camera to scan barcodes.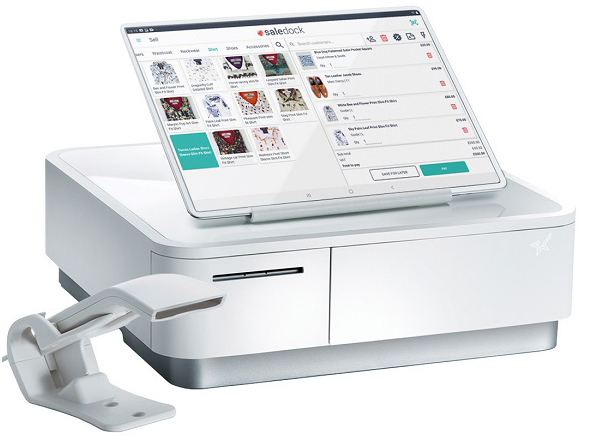 The mPOP is perfect for low-mid volume vendors who are looking for a stylish and compact solution. The mPOP offers a combined 58mm receipt printer and small cash drawer, so less suitable for businesses dealing with large quantities of cash on a daily basis.
Samsung Galaxy Tab A8 10.5" - ~£200
Star Micronics mPOP Bluetooth printer and cash drawer - £329
Star Micronics 1D barcode scanner - £89
Total hardware cost: £588
Pricing correct at time of publication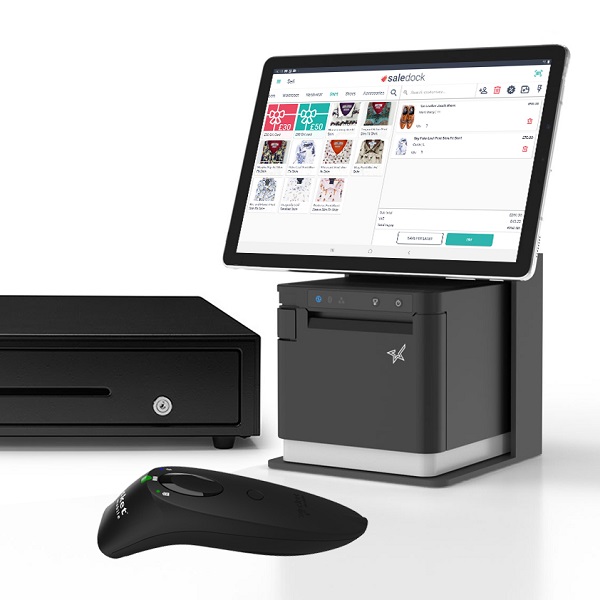 BoxaPOS bundle>
Stylish, robust and reliable, our favourite yet. The tablet stand is universal as it uses micro suction technology and has a compartment for the Star mC-Print3 receipt printer. Add a cash drawer and a wireless barcode scanner and you are completely mobile.
BoxaPOS universal flat tablet stand - £125
Samsung Galaxy Tab A8 10.5" - ~£200
Star Micronics mC-Print3 receipt printer (Bluetooth) - £269
Socket Mobile SocketScan S700 barcode scanner - £220
Standard cash drawer - £45
Total hardware cost: £859
Pricing correct at time of publication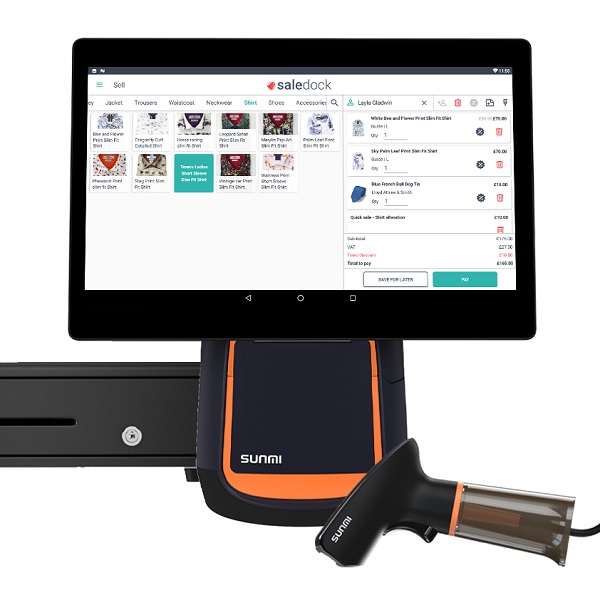 The Sunmi T2s is robust, has a 15.6" touch screen and built in 80mm printer, for a larger screen the combined solution is quite a space saver. Add the Sunmi U2 barcode scanner and a cash drawer and you are set.
Sunmi T2s touch screen terminal and printer - £599
Sunmi U2 barcode scanner - £49
Standard cash drawer - £45
Total hardware cost: £649 (bundle deal)
Pricing correct at time of publication
Payment provider fees
In addition to POS software and hardware integration you should also consider your payment provider fees. Here's a few examples to consider:
Card reader fee: For payment providers that do not charge a monthly fee you may need to buy the card reader itself. As an example, SumUp do not charge monthly fees but you'll need to purchase the card reader and pay a transaction fee. Prices range from £29-£119 depending on the card machine you require. As a SumUp partner we can offer card readers at a discounted rate saving you between £10-40 per reader.
Setup fee: This is a one-time fee when setting up your account, not all providers charge this fee but it's worth checking so you don't have an unexpected surprise on your bill. Some providers are willing to waive the fee so don't be afraid to ask.
Transaction fees: Providers that do not charge a monthly fee often charge a higher transaction fee. For example, SumUp charges up to 1.69% and is a flat fee across all card types. If you transact more than £5000 per month Saledock can help negotiate a lower fee. Some providers charge a percentage fee plus a fixed amount per transaction too. For providers who charge a monthly fee your transaction fees will be much lower and is based on your monthly turnover, average sales value and card types accepted. If this is your preferred option, Paymentsense and Dojo offer great rates and durable card machines.
Monthly fee: Many providers charge a monthly fee for their service. Often if a provider charges very low transaction fee rates they'll charge a monthly service fee which includes covering the cost of the card reader itself and also mobile data if your card reader has 3G capabilities.
Cancellation fee: If you sign up for a fixed term contract and wish to leave early you'll be charged an early cancellation fee which can be quite expensive. Paymentsense and Dojo (by Paymentsense) could pay up to £3000 in cancellation fees if you switch which is a great way to exit your contract without paying the cancellation fee. They also offer monthly rolling contracts so you'll never need to worry about a cancellation fee. If you're looking to switch get in touch and we'll refer you to our partner contact.
What are integrated payments?
You've heard the words "integrated payments" when researching POS systems so many times but not quite sure what it actually means? At its core it means the POS system sends the transaction total to your card reader so you don't have to type the amount manually into the card reader. This helps increase checkout speed and avoids mis-keying mistakes which contribute to profit loss. Key features also include:
Order history – View the card type and last four digits of the card used to purchase the items
Refund/exchange – Some integrated payment providers will allow you to process a refund to the original card used straight from your POS without the need to insert the card into the card reader
Automatic end-of-day reports – All transaction data is automatically sync to your POS so everything adds up
Accounting reconciliation – Take it one step further and connect your POS software to Xero. End-of-day totals and transaction fees are automatically sync making end-of-day reconciliation a breeze.
POS systems will list their integrated payment providers on their website. If your current payment provider is not listed and you wish to switch they can refer you to their dedicated partner contact.
Ecommerce for brick and mortar retailers
We've seen a surge in online sales during the pandemic and customer behaviour has changed. Whilst many can't wait to return to in-store shopping the demand for online shopping will only continue to grow. When considering POS systems bear in mind its ecommerce capabilities. Some POS systems integrate with third party ecommerce solutions whilst others offer the full POS and ecommerce package. Saledock opted for the latter because our vision is to provide a true all-in-one solution where owners can manage their inventory in one unified back office and updates are made in real-time across all POS devices and their online store. This eliminates the need to manage multiple systems which in turn increases productivity and avoids data duplication.
We also opted for the bespoke ecommerce route. "Bespoke" doesn't have to mean expensive. We offer bespoke ecommerce sites from £495 and could have you ready to launch in as little as 7 days! Take the stress out of building your own ecommerce site and let your brand shine with an ecommerce site that's bespoke to you! You still have complete control over content and imagery from the homepage content to product text and images, all managed from your unified back office.
We recommend an all-in-one system or at the very least an ecommerce site that has the capabilities to connect to your POS system as it will really help to simplify day-to-day business management. The following features enable to you to seamlessly manage you in-store and online business so features worth considering when comparing systems:
Ability to automatically sync product information updates and stock level changes in real-time across all POS devices and online store
Ability to process a click and collect online order from your POS
Ability to view and refund an online order from your POS
Ability to purchase and redeem gift cards in-store and online
Ecommerce capabilities

Print shipping labels
Process orders with order updates automatically emailed to customers using brand templates
Add courier and tracking number details to an online order
Add free, flat fee and variable shipping rates per country, weight or price range
Next steps
This guide has hopefully helped you get a better idea of the possibilities available to you and help you on your journey to modernising your POS system. Once you have a budget in mind start comparing POS systems, request demos or take advantage of free trials. Prepare a list of questions and problems you need your POS to solve so you can get the most out of your demo.
Start, modernise or grow your business with Saledock POS
Don't get left behind with the changing times, adapt and stay ahead of the game! A modern Point of Sale system will give you the tools to boost productivity and streamline operations. Are you ready to modernise and expand your business online? Our team are dedicated to empowering UK independent retailers, get in touch today or start your free trial and explore all the tools Saledock can offer you!
Book a demo
---
Let's chat! Book a demo today and we'll discuss how Saledock can help you.
Book a demo
Start your free trial
---
Start your free trial today and explore all the tools Saledock can offer you!
Start free trial